Design-uppgift: Skapa skisser på design av munskydd till allmänheten för att motverka coronaspridningen i samhället.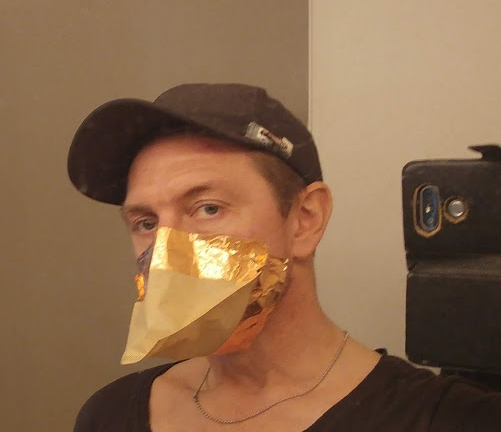 Nästan hela världens befolkning sitter i karantän på grund av coronapandemin. Eftersom det ännu inte finns något vaccin eller botemedel mot covid-19 så har nästan hela världens befolkning uppmanats till social distansering. Man behöver undvika fysiska kontakter med andra människor för att minska smittspridningen av coronaviruset.
Din uppgift idag är att designa ett munskydd som man kan använda för att minska risken att smitta andra i sin omgivning, om man själv redan bär på viruset. Munskyddet behöver alltså inte skydda dig som bär det från att andas in virus från andra, utan syftet är att begränsa spridningen av eventuella droppar med virus från din mun när du andas, pratar, nyser eller hostar. Det finns redan många olika varianter av munskydd på marknaden, med de flesta är ganska tråkiga rent utseendemässigt. Det ska du ändra på nu!

Det är alltså det estetiska uttrycket som är i fokus idag.
Hur kan du designa munskyddet så att så många som möjligt i din valda målgrupp verkligen kommer använda munskyddet i de sammanhang där de träffar andra människor? Om alla bär munskydd på bussen, i mataffären, på jobbet eller i skolan så kan man kanske lätta upp kraven på social distansering lite.

Tips:
Gör flera skisser, gärna många! Testa olika idéer genom att rita, skissa och färglägg med olika färger och olika mönster. Tänk och prova dig fram genom att skissa.
Jobba hellre snabbt med många olika designförslag istället för att lägga tid på detaljer.
Använd enkla grundformer till att börja med. Det är inte den fysiska formen på munskyddet som är huvudfokus i dagens uppgift.
Vilka känslor vill du att designen av ditt munskydd ska signalera? Ska det vara roligt, coolt, snyggt, knasigt, gulligt, lyxigt eller något annat?
Designkriterier:
Enkel att tillverka
Billig att tillverka
Miljövänligt material
Ska minska smittspridningen av coronaviruset från den som bär munskyddet (droppsmitta med visst aerosolt inslag).
Snygg och tilltalande design för den valda målgruppen.
Gärna återanvändbar.
Detta ska ditt designprojekt innehålla:
Välj målgrupp. Börja med en målgrupp men du kan göra designförslag till flera målgrupper om du vill och hinner. T ex privatpersoner, butikspersonal, busschaufförer, lärare, vuxna, pensionärer, ungdomar, barn, killar, tjejer.
Minst tre designförslag i form av skisser på hur produkten ska se ut och gärna även funktionsskisser eller illustrationer som visar när det används. Du kan rita och skissa för hand på papper med penna eller på datorn med valfritt program. Motivera gärna ditt val av skissverktyg och metod.
Produktbeskrivning som innehåller information om tänkt målgrupp, vilka behov munskyddet tillgodoser, hur och i vilka situationer det ska användas, produktegenskaper, vilket/vilka material det är tillverkat av och varför en användare skulle välja just din produkt istället för någon liknande produkt på marknaden (vilken är din produkts USP – Unique Selling Point). Produktbeskrivningen kan vara i ren text, som en broschyr eller Powerpoint.
Extramaterial och bakgrundsfakta gällande munskydd, andningsmasker och hur coronavirus sprids.
A video discussing latest research on masks (cloth, surgical, N95) and how they help in various transmission modes (aerosol, droplet) for source control and as PPE.

Slides for this video: https://bit.ly/2yCj5U3
References sheet: https://bit.ly/covid-transmission

OUTLINE:
0:00 – Overview
3:05 – Modes of transmission
11:03 – Do masks work?
14:42 – Takeaways KEY CITATIONS:

https://www.nature.com/articles/s4159… Respiratory virus shedding in exhaled breath and efficacy of face masks

https://bit.ly/3aMTkyr Testing the Efficacy of Homemade Masks: Would They Protect in an Influenza Pandemic?
Det råder stor brist på andningsmasker i världen
En artikel om hur svårt det är att tillverka skyddsmasker för sjukvården: COVID-19 Has Caused A Shortage Of Face Masks. But They're Surprisingly Hard To Make March 16, 2020
Project CAROLA är ett opensource-projekt som går ut på att designa och konstruera en skalbar containerfabrik för skyddsmasktillverkning. Läs mer om projektet här: https://wikifactory.com/+carola/project-carola-alpha
Här länge är man sjuk om man drabbas av covid-19? Hur länge kan man smitta andra?
From Infection to Recovery: How Long It Lasts
Covid-19's duration varies widely depending on severity, but now we know the rough range
Information om coronaviruset och covid-19 från Folkhälsomyndigheten:
https://www.folkhalsomyndigheten.se/smittskydd-beredskap/utbrott/aktuella-utbrott/covid-19/fragor-och-svar/
Vad gäller för användning av munskydd utanför vården?
Svar (uppdaterad: 2020-03-26 15:14): Munskydd behövs inte i vanliga situationer ute i samhället, då är det bättre att hålla avstånd till andra människor och att vara noga med att tvätta händerna.
Läs mer om hur du skyddar dig själv och andra från smittspridning.